By Chryshane Mendis and Prasad Fonseka
Deshamanya Vidya Jyothi Dr. Roland Silva was one of the foremost experts in the conservation of historical monuments and sites and one of Sri Lanka's most prominent archaeologists. He was the former Commissioner of Archaeology (1983-1990) and the pioneer Founder Director General of the Central Cultural Fund that implemented the UNESCO-Sri Lanka Project of the Cultural Triangle, former Chancellor of the University of Moratuwa, former President of the World Body of Conservators, the first president of the of ICOMOS International (International Council on Monuments and Sites) from Asia (1990-1999), which is one of the three formal advisory bodies to the World Heritage Committee function under  UNESCO, the pioneer in the establishment of the Post Graduate Institute of Archaeology and the pioneer founder President of The National Trust Sri Lanka. In addition he was a senior/honoured member of many other national and international professional institutions of Architecture and Archaeology.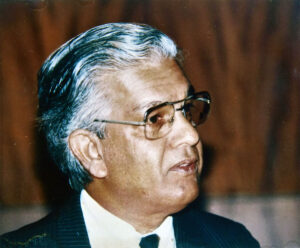 Born in 1933 to a prominent entrepreneurial family in Giriulla, Roland Silva was the fifth in the family. His only brother was the eldest and there were three elder sisters and three younger sisters to Roland. He began school at St. Joseph's College Colombo 10 in 1939 and was the youngest boarder at that time in the hostel, where he resided throughout his years at College. In 1942 when the Darley road premises were taken over by the military, the students were moved to three branches in Gampaha, Kelaniya, and Homagama. He continued his studies in Gampaha and then in Homagama, where he excelled in the second and third standards and received a double promotion to the fifth standard. Returning to Darley road in 1946, he took part in high jump and volley ball and finally captained the College Athletics and Volley ball teams. The late Dr. Carlo Fonseka who later entered SJC after having his early education in Mari Stella College was a classmate of his and were together in their years of schooling until they were separated in different streams. Due to his excellence in academic and the other activities, he was awarded the Head Prefectship by the Rector Rev. Fr. Peter Pillai, in 1951.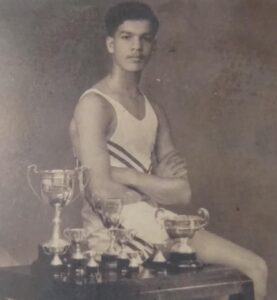 In Senior Prep (Year 9), he chose Double Maths, Physics and Chemistry (for HSC) and after passing all the examinations, he was called for an interview for selection to University where he indicated his desire to study Architecture. As there was no course on Architecture in the University, the panel recommended him to discuss with the Rector and so the Rector communicated with the Architecture Association (AA) of England to secure a place in their School of Architecture.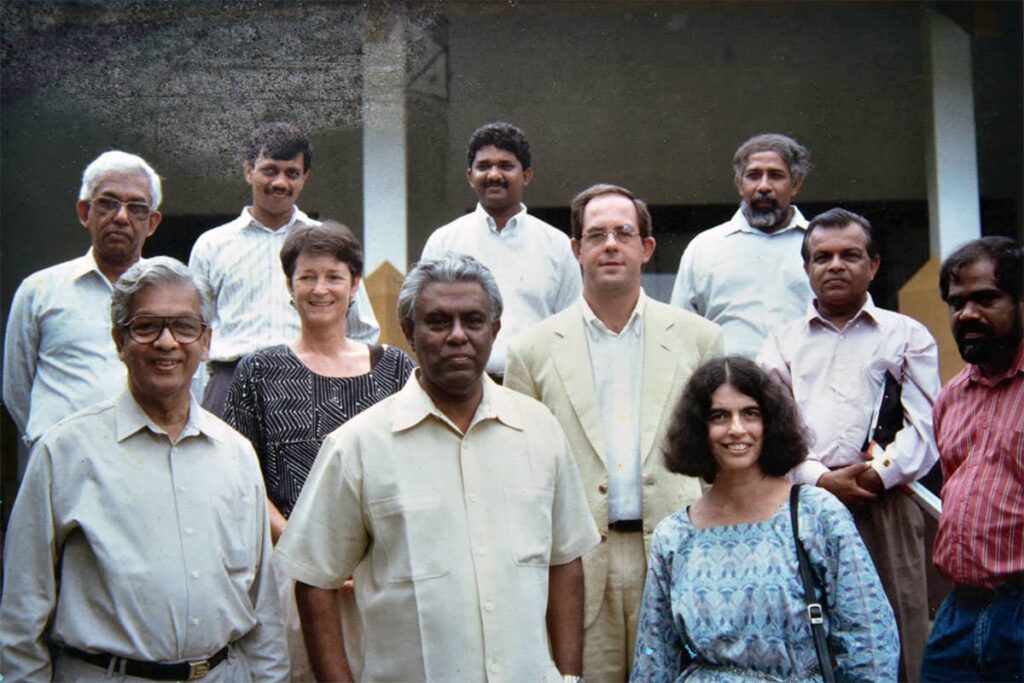 Dr. Roland began his studies in London in 1954, and while there, he had received a letter from Rev. Fr. Peter Pillai about his visit to London to undergo surgery for nonalcoholic cirrhosis. Fr. Peter Pillai had requested his former student to arrange suitable accommodation and he was able to find a visitor's room in the hostel where he was staying. He had also given his contact details to the Hospital as the emergency contact of Fr. Peter Pillai and tended to the needs of Fr. Pillai throughout his stay in London.
While studying architecture in London from 1954 to 1959, he became interested in  archaeology and thus he found time to complete a Postgraduate Diploma in Indian Archaeology at the Institute of Archaeology at the University of London in 1958; and even at this young age, he demonstrated his skills in multi-tasking, which later became the hallmark of his career.
After his studies in London, he toured in Europe and North Affrica visiting archaeological sites and he collected his appointment letter as the Assistant Commissioner (Architecture) of the Department of Archaeology from the Sri Lankan Embassy in Egypt. He became an Associate Member of Ceylon Institute of Architects in 1960, Royal Institute of British Architects in 1962 He later went on to obtain a Postgraduate Diploma in Conservation of Monuments from the University of Rome in 1968 and his Ph.D. from the University of Leiden in the Netherlands in 1988.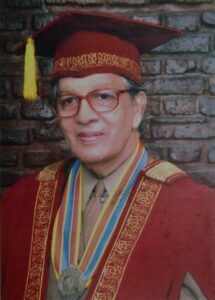 During his illustrious career of 30 years at the Department of Archaeology, Dr. Roland had the privilege of being the last Commissioner of Archaeology and its first Director General. During his tenure, he gave professional and scientific leadership for complex conservation works such as the restoration of the Maligawila Buddha Image and many historical Stūpas. Through his great vision and holistic approach to heritage, he was the pioneer and pathfinder for the UNESCO – Sri Lanka Project of the Cultural Triangle in 1980 and also for the inscribing of Sri Lanka's first six UNESCO World Heritage Sites. In par with these international projects, he also set up the Central Cultural Fund for the financing and implementation of the project.
Dr. Roland Silva was the Founder President of ICOMOS – Sri Lanka from 1981 to 1990, and also championed for regional representation in ICOMOS International and was subsequently elected the first Non-European President of ICOMOS in 1990, which he held for an unprecedented three consecutive terms till 1999; during which he worked tirelessly to set up national committees of ICOMOS in African, Asian and Latin American countries to realize his vision of making ICOMOS truly a world body. His international work included chairing scientific sessions of UNESCO that listed 222 sites throughout the world and also advocated looking into Asian traditions in conservation and management with an approach to living heritage. He also chaired the international proceedings in Nara, Japan, in 1993 that led to the Nara Document of Authenticity, a landmark document in heritage conservation.
Dr. Roland Silva was a consultant for World Heritage Site projects in many countries. One of his major contributions at the international level was serving in  the team of experts in the conservation of the Leaning Tower of Pisa in Italy, which made the tower stable.  Roland Silva the architect, too was active, having assisted in developing the architecture education by setting up a course in architecture at the Colombo Campus and was thus an influential teacher to several generations of architects. The former Head Office building of the CCF, Polonnaruwa Site Museum, and the old site Museum at Sigiriya were all designed by him, evolving a specific architectural vocabulary with tradition.
He is a constant reference to any student of Archaeology in Sri Lanka, and his theoretical studies of ancient Buddhist architecture are now standard practices. Even at an old age, Dr. Roland was still involved in the heritage sector and attended to the affairs of The National Trust with great enthusiasm. His strong charisma was an inspiration to many and although his demise is a loss to Sri Lanka and the whole world, the legacy he left behind will last the ages where he will join the list as one of Mother Lanka's greatest sons.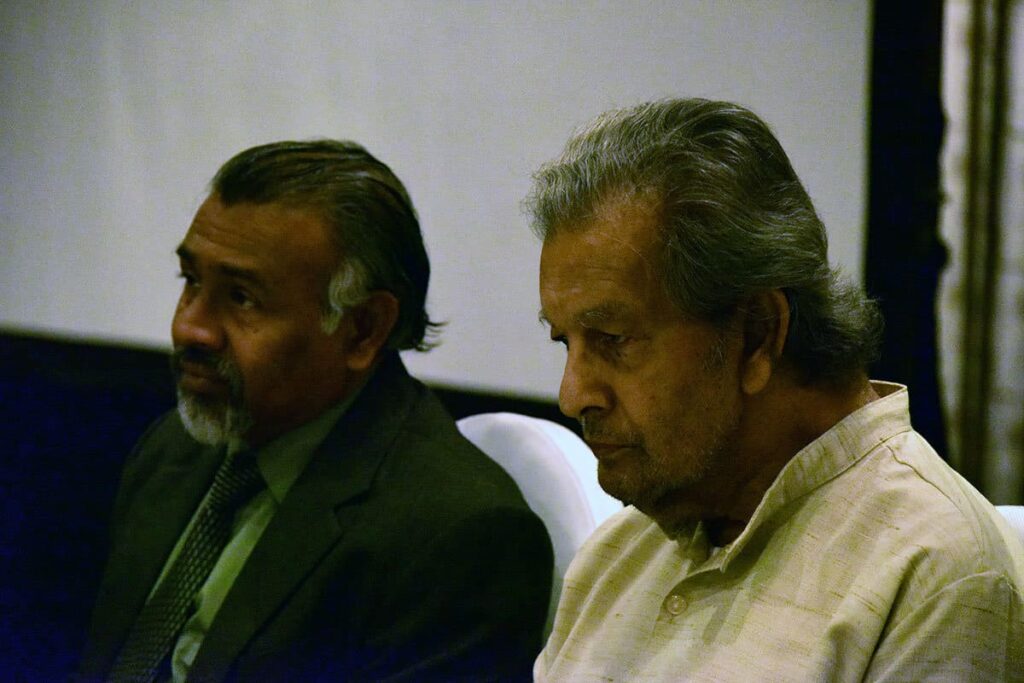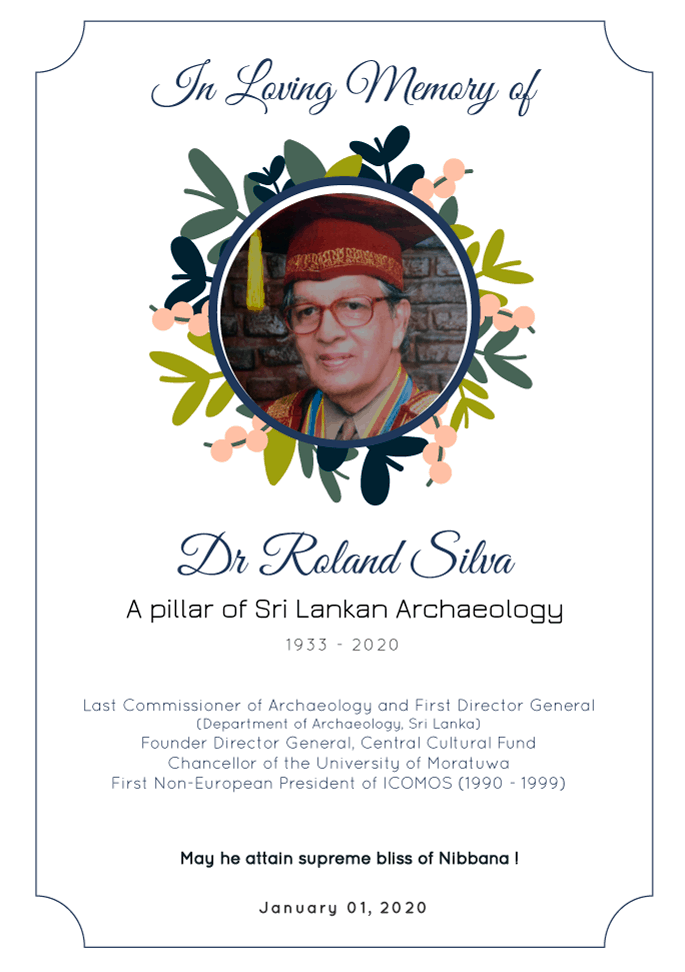 Special thanks gooes to Mr. IMS Madanayake and Ms Sonali Premarathne for providing photos for this article.
This article was published on arcaheology.lk on January 03, 2020