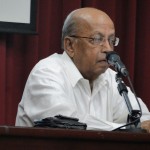 The public lecture delivered by the Dr.M.S. Nagaraja Rao at the National Museum Auditorium, Colombo, Sri Lanka is available to download as MP3 or FLV(You can listen to the lecture). The Powerpoint presentation is available as a PDF to download. An image gallery of the lecture is also available.
Image Gallery
Click on image to see large image.

Listen
[audio:https://www.archaeology.lk/audio/neolithic-megalithic-cultures-of-south-india-Dr-M-S-Nagaraja-Rao-Sri-Lanka-2010.mp3|titles=Neolithic Megalithic Cultures of South India –
2010 – National Museum – Colombo – Dr. M.S. Nagaraja Rao]
Download
Presentation
NEOLITHIC-MEGA LITHIC Cultures of SOUTH INDIA [6.41Mb]
The topic of the lecture was different from the what we have posted on September 25, 2010.