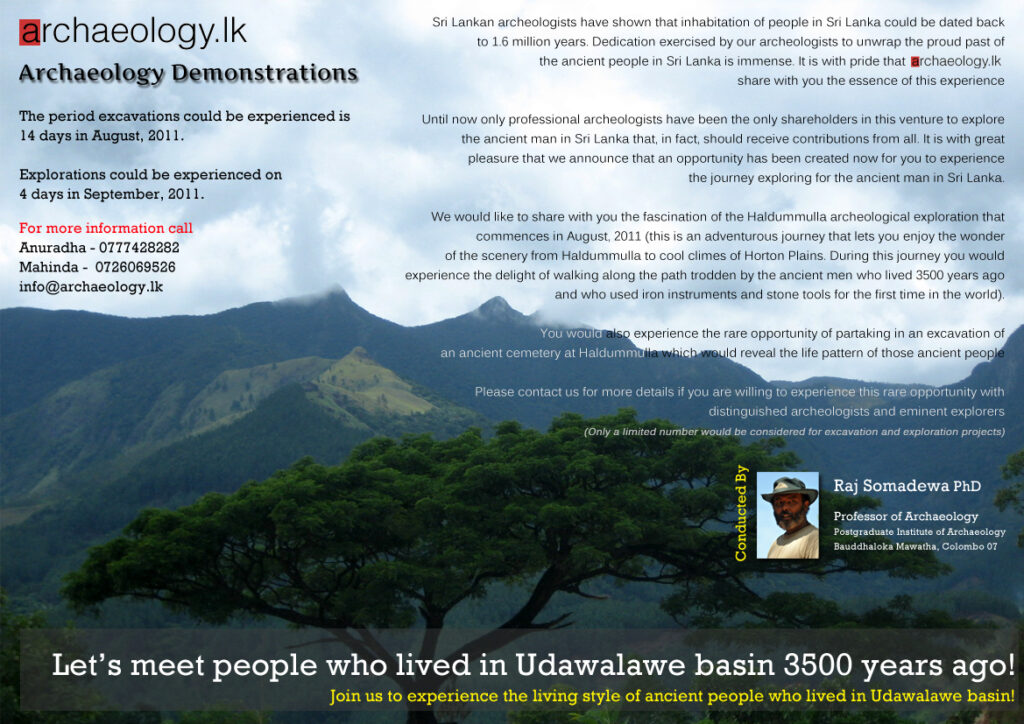 Sri Lankan archaeologists have shown that inhabitation of people in Sri Lanka could be dated back to 1.6 million years. Dedication exercised by our archaeologists to unwrap the proud past of the ancient people in Sri Lanka is immense. It is with pride that archaeology.lk share with you the essence of this experience
Until now only professional archaeologists have been the only shareholders in this venture to explore the ancient man in Sri Lanka that, in fact, should receive contributions from all. It is with great pleasure that we announce that an opportunity has been created now for you to experience the journey
exploring for the ancient man in Sri Lanka.
We would like to share with you the fascination of
the Haldummulla archaeological exploration that commences in August, 2011 and also experience the rare opportunity of partaking in an excavation of an ancient cemetery at Haldummulla which would reveal the life pattern of those ancient people
Conducted by
Raj Somadewa PhD
Professor discount viagra of Archaeology
Postgraduate Institute of Archaeology, Sri Lanka
The period excavations could be experienced is
14 days in August, 2011.
Explorations could be experienced on
4 days in September, 2011.
(Only a limited number would be considered for excavation and exploration projects)
For more information call
Anuradha – 0777428282
Mahinda –  0726069526
info@archaeology.lk
Note: More details will be published in this website by August 2 , 2011