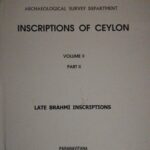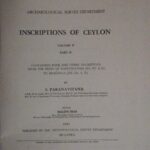 Inscriptions of Ceylon Volume II Part II – Late Brāhmī Inscriptions
රු1,150.00
Another outstanding work by Prof. Senarat Paranavitana. This volume was edited by Dr. Malania Dias. It contains rock and other inscriptions from the reign of Kanitthatissa( 164 – 192 A.D.) to Mahasena (276 – 303 A.D.).  This was published by the Archaeological Survey Department Sri Lanka.
Additional information
Reviews (1)
Delivery
Delivery: 3-7 Working Days (by CertisLanka Courier Services (Pvt) Ltd )
Delivery Area: All Island
Pay on Delivery: Not Available
Please contact archaeology.lk for international delivery.